"Monday Monday, so good to me,
Monday Monday, it was all I hoped it would be"
The Mamas & the Papas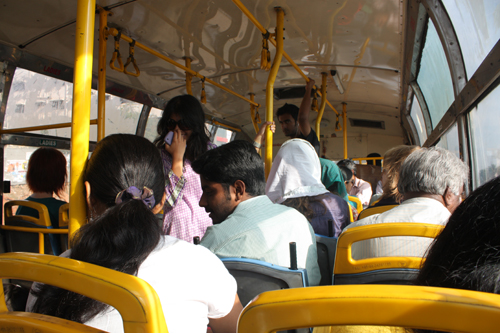 It's Monday again, after a beautiful week full of trying different food, walks through the city, sightseeing & shopping, arguing with richshaw-drivers, getting bitten by all different kinds of insects and attending really interesting lectures. We are getting ready for another great week in Bangalore, India. This week each group will be busy doing their own projects. At the end of the week all the work will hopefully be rewarded with a lot of people coming to the exhibition on Thursday afternoon at CKP from 4 to 7 pm.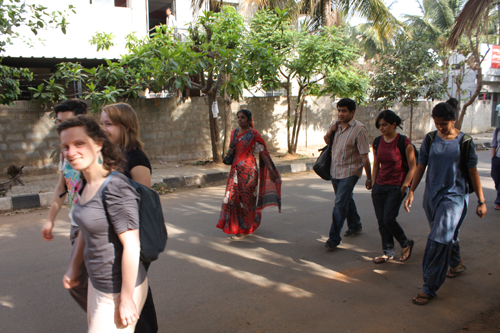 After the usual bustrip we arrived at the Sristi campus. Getting tea, water & coffee before everything starts became a sort of a ritual and after practicing this ritual everybody was settled to get some serious work done.
Because my group & I decided to leave early we didn't get to see what everybody's been doing this Monday, so when I came back to the hotel I interviewed one person of each group about their developments. After this I will elaborate more on my own project.
Mini-interview Rosie & Eric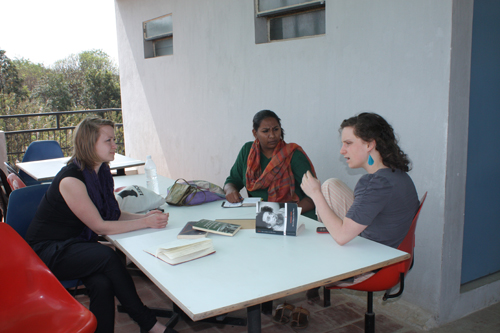 "In search of inbetweenness we decided to reflect on our own otherness"
"In a place of transit you should feel comfortable, but your not and this only because the color of your skin"
Rosie's group decided to acted out a series of exercises in Majestic Bustreminal which will be documented. The main purpose for these exercises is to observe oneself and the other in transitional space. This state of inbetweeness was the trigger for deeper research on the subject matter. SPACE & IDENTITY bouncing back and forth. The first week was about looking at the other and this week will be about looking at ourselves through the other's eyes.
- Avni, Rosie, Babitha, Ane, Eric
It's interesting to see ones own reaction towards the other, and the change in collectively becoming the other solely based on your skin colour. After a couple of talks with my peers it became clear to me that they somehow feel (and these are my own words, a free interpertation of the situation) visually raped as the gaze of the "other" seems to constantly follow them around and watch them. In my case it's completely the opposite, nobody bothers me with big eyes as if I came with a UFO from planet Europe. Funny to notice I had to fly across the world to feel completely at home.
The other exists, no matter what they say. It will take years of re-programming one's mind to change these reflections of otherness and wholeness. We know that there is no such thing as the other and we can read untill we drop, but we won't feel it. Maybe we should all spend a lifetime on a mountain sitting and contemplating our otherness and maybe we will become one with the universe, leaving things like "otherness"," you"," me"," I" behind (for the record….i'm joking …but we should…… )
Mini-interview Eelco
'Everything is solarrrrrrpowerrrr!!!'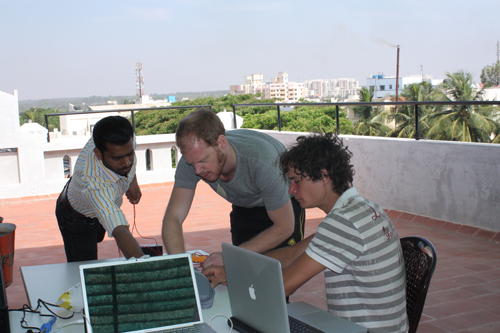 Eelco & friends are working on a clock which gets its energy from the sun. The more sunlight the clock is able to process, the faster it will run. The stored solarpower in the clock will be used to sustain a microsociety which consists of little mechanical bugs. The project questions our notion of time and provides an alternative vision on time and space.
- Shibaji, Claire, Bhanu, Eelco, Clemond
We aren't different only in culture, mentality, nurture and gender. Talking with Eelco made me also aware that even our notion of time depends on the location of where you are at a certain moment in time and space. The 24-hours (the only thing I thought we could agree upon, and the only thing that I thought of being equally divided amongst people) are going faster or slower according to the amount of sunlight. I'm wondering if we can't at least have one thing in the world reality which is a certain fact and equal to men, besides birth & death?
Mini-interview Patricia
"The most beautiful part of the day was not missing the bus"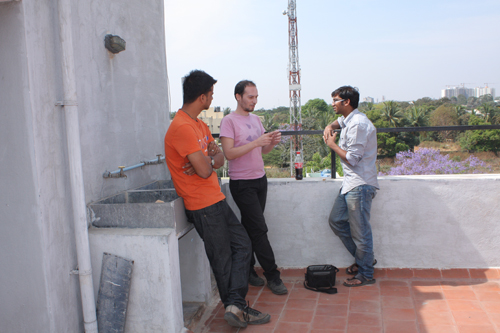 Patrica's group will make a databank which will contain different sounds & images. The main purpose behind this project is to collect different data of the city which can be used as the building blocks for our imagination. Imagination needs objects from reality to deform & to play with. Every group in the workshop have acces to the databank. Also a musicband will play out the sound that the images make when they are converted to sound.
- Patricia, Doris, Sylwia & Kostas
Looking very much forward to hear the sound of images. I knew you could visualize sound, but to make sound of an image was a new approch of datavisualisation for me. Does the color red have its own sound? And what about the color blue, or green or yellow….and so on. Maybe we will be surprised and hear a beautifull harmony of sounds, singing beautiful words to us or maybe the sound will be a message for us. Finally images can speak out and tell us what they are thinking…….or maybe they will speak to us in angry voices for using them for all the wrong purposes………..who knows?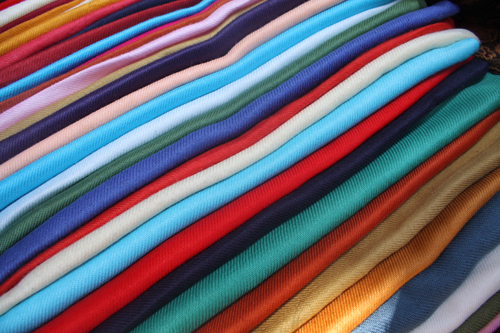 the sound of color…..
Note for the reader who isn't in the workshop: If you are also extremeley curious about the sound of images, I suggest you visit the end exhibition on Thursday or check back on the blog after we upload the images and texts.
Mantu, Mpi, Piere & Nancy
"Locations rhymes with frustrations"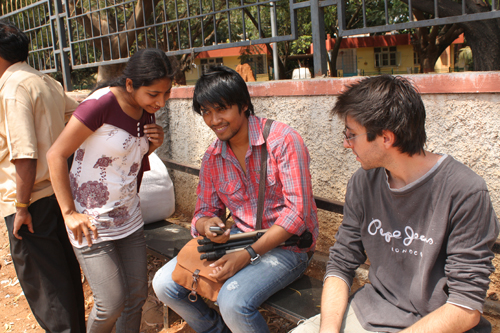 The group will make a movie about the most popular locations in Bangalore. Thinking about locations and the people we realized that every location has his own (body) language which we translated into "actions". For example, praying in a temple is accepted behaviour, but what will happen when you do it on the streets or in a park? Three movies will be played next to each other (Cubbon park, MG Road & a Hindu temple). In all of the locations one action from each location will be acted out. The main purpose is to see the people's reactions.
Monday we started with filming footage for the movie. First we decided on doing four movies in which each of us played a role. But after being denied acces to the malls and with the request for filing for permission, the plan of four movies changed into three. The first location will be extremely commercial, the second location will be really "religious" and the third location will be "natural". Tuesday we will be finishing gathering the footage and Wednesday is for editting, programming, hysteria & panic.
Last but not least I really really really want to share this picture. On MG road (Mahatma Gandhi Road)..….no disrespect but I almost p*ssed my pants laughing when I saw this quote. It reads: "an eye for an eye is making the whole world". The poor guy forgot the last word which is "blind". Or did he do it intentionally?